Safe Confined Space Entry for Silos and Hoppers
Published: March 25th 2020
Procedures, Regulations and Equipment
Many factors can cause bulk materials to adhere to the sides of chutes, silos and hoppers -- including humidity, moisture content, size/texture of the raw material or increased production volume -- resulting in lost capacity or clogging. Ongoing accumulation reduces flow and eventually stops production in order to address the issue, causing expensive downtime and requiring extra labour to clear the obstruction.
Clearing extensive buildup often involves confined space entry, but the consequences of untrained staff entering a chute, silo or hopper can be disastrous, including physical injury, burial and asphyxiation. Without proper testing, ventilation and safety measures, entering vessels containing combustible dust could even result in a deadly explosion.
What is Confined Space Entry?
The HSE definition of a "confined space" means any place, including any chamber, tank, vat, silo, pit, trench, pipe, sewer, flue, well or other similar space in which, by virtue of its enclosed nature, there arises a reasonably foreseeable specified risk;
What is a foreseeable risk?
A foreseeable risk in relation to a confined space is:
serious injury to any person at work arising from a fire or explosion;
the loss of consciousness of any person at work arising from an increase in body temperature;
the loss of consciousness or asphyxiation of any person at work arising from gas, fume, vapour or the lack of oxygen;
the drowning of any person at work arising from an increase in the level of liquid; or
the asphyxiation of any person at work arising from a free flowing solid or the inability to reach a respirable environment due to entrapment by a free flowing solid;
Entering a Confined Space
Working in confined spaces typically requires:
Permit to Work
Special personnel training
Safety harness and rigging
Extensive preparation
Added personnel for a 'buddy system'
Systems designed to minimize permit-required confined spaces can provide a significant return on investment, and the best time to reduce the amount of confined-space entry for component maintenance and replacement is during the specification and design stages of a project. Many manufacturers offer systems and products that can reduce the need for confined space entry. Examples would include:
Modular chute designs with abrasion-resistant liners.
Chutes that hinge open and lay down for liner replacement.
Skirtboards with external liners.
Belt cleaners that can be serviced without confined space entry.
Flow aids such as air cannons and vibrators to reduce buildup.
Modular air cleaners for specific locations rather than centralized dust collection.
Regulations and Standards
Rules regarding confined space entry vary greatly depending on the country. As always, regional and local codes should be identified and followed, but general rules can be drawn from regulations established in major industrial markets such as the United Kingdom, Australia / New Zealand, Canada and the United States. Commonalities between governmental regulations provide employers with a measured approach to safety. These procedures include:
Prior to Starting the Job
Carry out a thorough risk assessment and prepare a safe system of work.
Develop an appropriate emergency rescue plan.
Further manage the risk with the use of a permit to work to support the risk assessment, safe system of work and emergency procedure.
Ensure personnel operating in or with the confined space are appropriately trained and deemed competent.
Gather and inspect all necessary PPE.
Test and/or calibrate any safety gear, test instrumentation or communication tools.
Conduct proper tests for toxins, vapor, dust levels, oxygen levels and material-specific hazards.
Perform as much cleaning and maintenance as possible outside of the vessel.
Post completed confined space entry permit outside of the vessel.
Isolate contaminants and moving parts to prevent the accidental introduction of materials.
Workers should complete the proper log-out/tag-out try-out procedure prior to entry.
During Procedure
Perform maintenance/cleaning using non-toxic substances such as water and avoid using heat/fire in the confined space. Never use oxygen to purge a confined space, as this can create a fire and explosion hazard.
Provide ventilation if the Risk Assessment requires it.
Select personal protective/safety equipment such as safety helmet, gloves, hearing protectors, safety harness and lifeline and breathing apparatus.
Assign a trained observer to monitor the procedure and internal conditions.
In addition you want to Practice fast evacuation of confined spaces.
Closing Thoughts: Covering Your Access
Over time, well-designed access improves safety and saves money. Safe access that is carefully located and adequately sized will increase dependability and also reduce the downtime and associated labour required for maintenance. Consider equipment designs that minimise the need for confined space entry, including improved access doors, vibrators, air cannons or silo cleaning services. Vessels that are properly retrofitted with the right cleaning and material discharge equipment experience longer life and less downtime, while creating a safer workplace.
---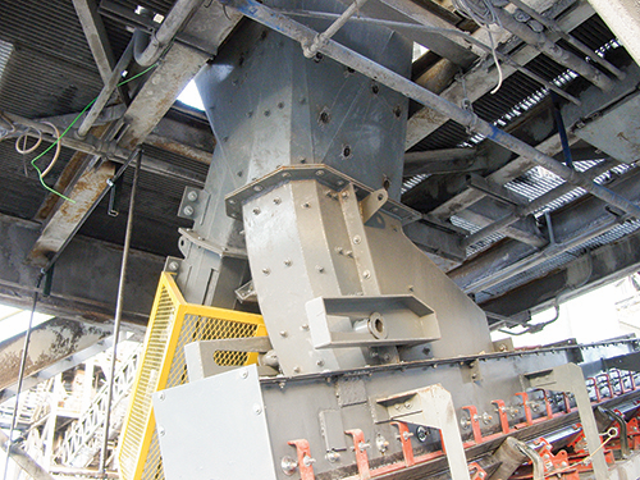 The rear chute wall in this image is bolted onto side flanges, allowing safer access.
---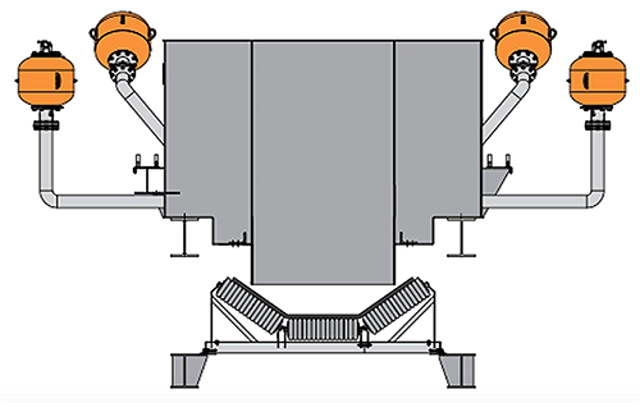 Proper air cannon placement in chutes and silos can reduce ongoing buildup.
---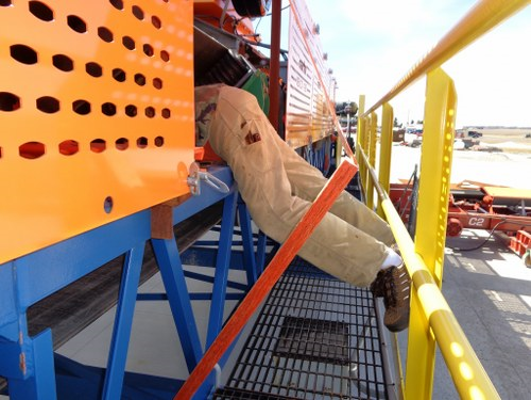 Never do this: confined space entry by untrained personnel is a formula for serious injury.
# # # #
© 2020 Martin Engineering Company. All rights reserved. Martin Engineering products are protected by U.S. and foreign patents and patents pending. Additional intellectual property information is provided at www.martin-eng.com/trademarks.
References
[1] Dougherty, Dorothy, "Permit-Required Confined Spaces," Occupational Safety and Health Administration, Department of Labor, Dec. 12, 2011. https://www.osha.gov/pls/oshaweb/owadisp.show_document?p_id=9797&p_table=STANDARDS
https://www.hse.gov.uk/confinedspace/
Call Us Today
+44(0)115 946 47 46