SMART™ Series High-Temp Nozzle
The Martin® SMART™ Series High-Temp Nozzle offers a simple yet innovative solution to the age old problem of labor intensive nozzle replacement.
Eliminate the time and cost of cutting holes and breaking refractory to replace worn out nozzles.
Features and Benefits:
Replacement is quick and easy
Limits or entirely eliminates damage to surrounding refractory
No need to remove the air cannon tank
Eliminates improper alignment
No entry required into the tower or cooler
Provides the wide area of influence of a standard fan nozzle
Available in straight or "Y" pipe arrangement
Our technicians and engineers are available to provide expert advice and assistance on this product and all of your bulk material handling questions and problems. Please contact us today and let us help!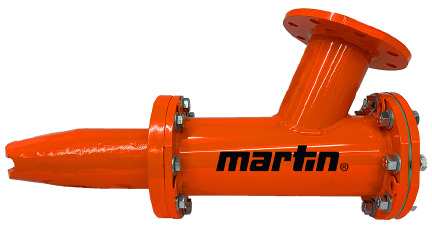 We Solved Their Problems!
Let us help you solve yours as well. All products and services provided by Martin Engineering carry our Absolutely No Excuses Guarantee. If we don't solve your problem, we will fully refund your money or provide a different solution for you. Period.
Air Cannon Installation Results In 80% Fewer Stops For Cleanup
On the ship unloading conveyors at Arcelor Mittal in France, matter was accumulating along the belt and at the transfer points, which was reducing material flow. The client had to increase the number of stops to manually clean-up the material, generating fairly substantial additional costs.
Read Case Study
Air Cannons Drastically Reduce Unscheduled Outages At Cement Plant
A plant produces over a million tons of cement every year. Due to the large production volumes, material was building up on the raw feed material inlet chute to the feedshelf in the preheat tower. The plant was incurring unscheduled outages due to buildup and blockages, costing tens of thousands of dollars per year.
Read Case Study
Air Cannons Prevent Buildup on Kiln Walls
A mine was experiencing build up on the kiln walls, requiring continuous manual cleanup. This presented potential safety hazards for workers and increased man hours and overall expenses. Martin Engineering recommended installing Martin® 150-Liter Hurricane Air Cannons with retractable nozzles as well as Martin® Thermo Safety Shield.
Read Case Study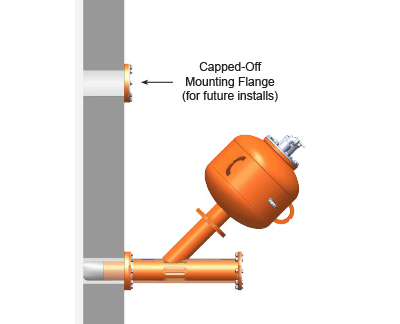 Air Cannons - Prepare Now & Save Later
If you know you'll need to install air cannon nozzles down the road, take advantage of scheduled downtime by installing new flanges now. Once they're installed, they can easily be sealed until you're ready to upgrade to new equipment. Plus, we'll supply the new flanges and installation kit at no cost!
Get Your Free Installation Kits Now
Call Us Today
+44(0)115 946 47 46